BIG BAD WOLF AW19 - "All The Better To See You" Jacket
The "All the Better to See You" jacket is a sumptuous patchwork tailored jacket. It features the Collections signature Wolf Eye lapel into statement two toned, generous hood. The hood and lapel look beautiful up or down and is a classic Gun Shy quirky detail that the label is renowned for. This divine piece features beautifully tailored patchwork details on the main, an exquisite statement bishop sleeve with a classic Gun Shy zig zap patchwork detail, culminating in a faux fur cuff. "All the Better to See You" jacket is closed with fur hook & eyes and can be be finished with plain or the Collections 80's horror screen printed lining. The "All the Better to See You" jacket shows how deliciously refined patchwork can be. A wonderful stylish statement piece.

Details can be customised to suit. There are multiple faux fur options for this Collection which can be substituted in this piece depending on availability.

All Gun Shy garments are lovingly handmade with fierceness and care. Each one of a kind garment is individually made with mantras & meditations of love & peace poured into them. Gun Shy believes this manifests goodness, power & awesomeness into the wearer. Each glorious piece is a unique timeless wonder, one of a kind garment that uses pain staking complex pattern making and construction. To own and strut in a Gun Shy garment is a powerful thing, a secret which all Gun Shy owners know. Come join us. Are you ready to Stop Traffic.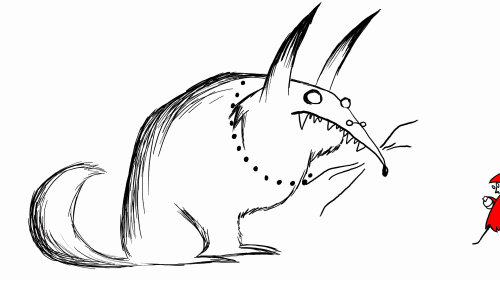 Great layby terms also available on all Gun Shy pieces - contact us at gunshydesign@gmail.com if you wish to arrange a layby.

FREE SHIPPING

Main:
Faux Fur: Modacrylic
Lining: Polyester
Screen Print Design: String Designs

PHOTOGRAPHER: Evan Fowler
MODEL: Hayley Lawson
MUA/SPFX: Lou McLaren
STYLIST: Chicken Kiev
ACCESSORIES: Adah Kelleher-Roulston